Blog
2 for 1 Cocktails and Happy Hour - Chung Ying Central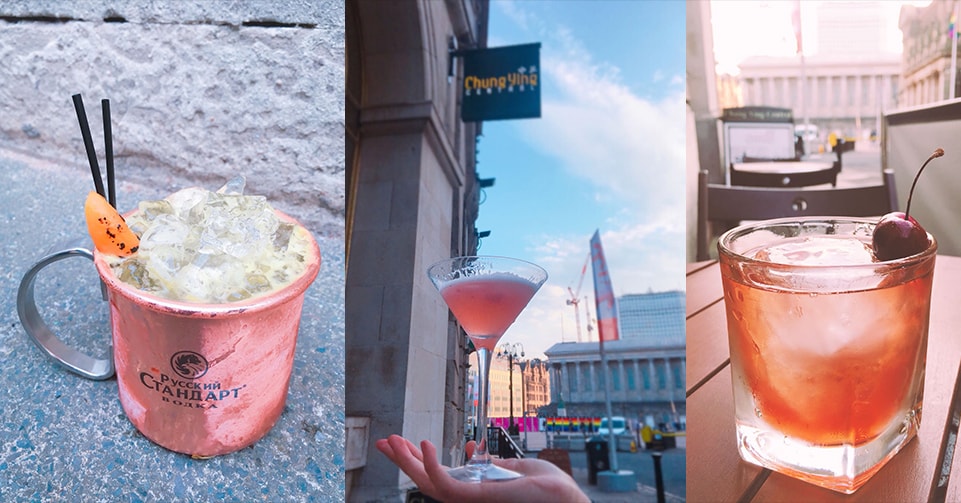 You've just sat down for a bite to eat in our sleek yet welcoming restaurant and you're wondering what drink to go for… and then you see our Happy Hour deal!
Here at Chung Ying Central, our talented bar staff and mixologists love creating innovative yet delicious cocktails with an Asian twist. We're passionate about delivering authentic Cantonese cuisine to our customers that they can enjoy with the perfect drink to match!
In our humble opinion, the beauty of cocktails is that they're perfect for every season, whether you're looking for a cocktail with a kick of whiskey to warm you up or a refreshing and fruity drink to cool you down. Plus, to make things even better, whether you're a gin lover or bourbon hater, there's a cocktail out there for everybody… we've even got mocktails too!
If those reasons alone aren't enough to convince you why cocktails and our Happy Hour deal are so in demand, here's a little history of how cocktails made their name…
The history of cocktails…
Although there is not much evidence of where the cocktail originated exactly, cocktails started as a mixture of spirits, sugar, water and bitters. By the 1860s, things were heating up and cocktails frequently included a liqueur. Allegedly, the first cocktail party occurred in 1917. Julia S. Walsh Jr. invited 50 guests to her home at noon on a Sunday and the party lasted one hour… what a wild 60 minutes that must've been!
During Prohibition when alcohol was banned in the United States, illegal establishments opened, called 'Speakeasies'. They would sell illegally made cocktails to customers. Unfortunately, the alcohol used was poorly made so they'd use flavourings to mask the terrible taste.
Although they became less popular in the 1960s and 70s (they didn't know what they were missing out on!) recently cocktail popularity has exploded, thanks to our Happy Hour deal, of course… and they are now more popular than ever!
Happy Hour at Chung Ying Central
Now we know everyone has different tastes, some people like them fruity, others like them creamy, sometimes people prefer the classic cocktails we all know and love, whilst others prefer to push the boundaries… that's why we love featuring a mix of delicious cocktails in our Happy Hour 2 for 1 deal. Some have been available since Chung Ying Central opened, whilst others have been created especially for the season to warm you up or cool you down!
We love delivering our customers a seasonal specials menu that has it all, delicious tasty morsels that leave you wanting more and 2 for 1 cocktails that make 4-7pm just that little bit sweeter! If you're looking for a great place to go for an after work drink with some colleagues or a catch up over cocktails with your closest friends, Chung Ying Central is the place for you.
So if you're in the mood for a Singapore Sling, head down to Chung Ying (see what we did there?!) to experience to our mouth-watering 2 for 1 cocktail deal, every evening (Monday- Saturday) between 4-7pm!
See you there…