Blog
5 super-healthy things to try at Chung Ying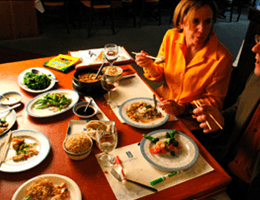 1) Prawn dumplings
Prawn dumplings are simply delicious and they're seriously low in fat too! Prawn dumplings are boiled and wrapped in rice flour so there's no frying, which means there's no additional fat or calories. So tuck in and enjoy absolutely guilt free!
2) Chinese Tea
Chinese tea has been a staple in the Chinese diet for centuries. Not only does it have extensive history but Chinese tea is refreshing and packs a whole range of health benefits too.
Chinese tea is great at reducing cholesterol, helps fight cancer and diabetes, reduces blood pressure and more. So what are you waiting for? Try Chinese tea next time you're at Chung Ying.
3) Singapore style noodles
If you want to stay healthy and you like noodles, you'll instantly fall in love with our Singapore style noodles from Chung Ying ! They're low in fat, seriously tasty and they're loaded with tasty vegetables too.
Packed in to this tasty dish is curry powder, bean sprouts, chilli peppers, soy sauce and if you wish, you can add chicken, beef or even prawns.
Better still, Singapore noodles are a favourite among the team here at Chung Ying too.
4) Boiled Won Ton soup
Tasty, filling, super-healthy and 'Won Ton' translates to swallowing a cloud. What more could you ask for!
Won Ton is a soup packed with flavour and goodness. Won Ton themselves are boiled dumplings generally filled with meat or fish such as pork, chicken or prawns.
If you're looking for a delicious, filling and satisfying dish, try Won Ton soup next time you're at Chung Ying !
5) Beef with broccoli
Simple, tasty and good for you. You've got all of the crunch from the broccoli along with the iron and vitamin C; then you've the tenderness and bite from the juicy lean beef.
If you're looking for a simple, hearty and wholesome dish, beef and broccoli is where it's at!