Blog
A Brief Guide To Chung Ying's Noodles
Being one of the original restaurants in Birmingham's world-famous China Town, we are proud to offer a sumptuous selection of noodle dishes across our menus. From traditional cuisine to innovative new dishes, our veteran chefs cook a variety of noodles to perfection, so that they can introduce even the most experienced diners to unique and authentic tastes that they haven't encountered before. Here's a brief guide to the differences between the noodles that we serve and the restaurants where they are available.
Dan Dan Noodles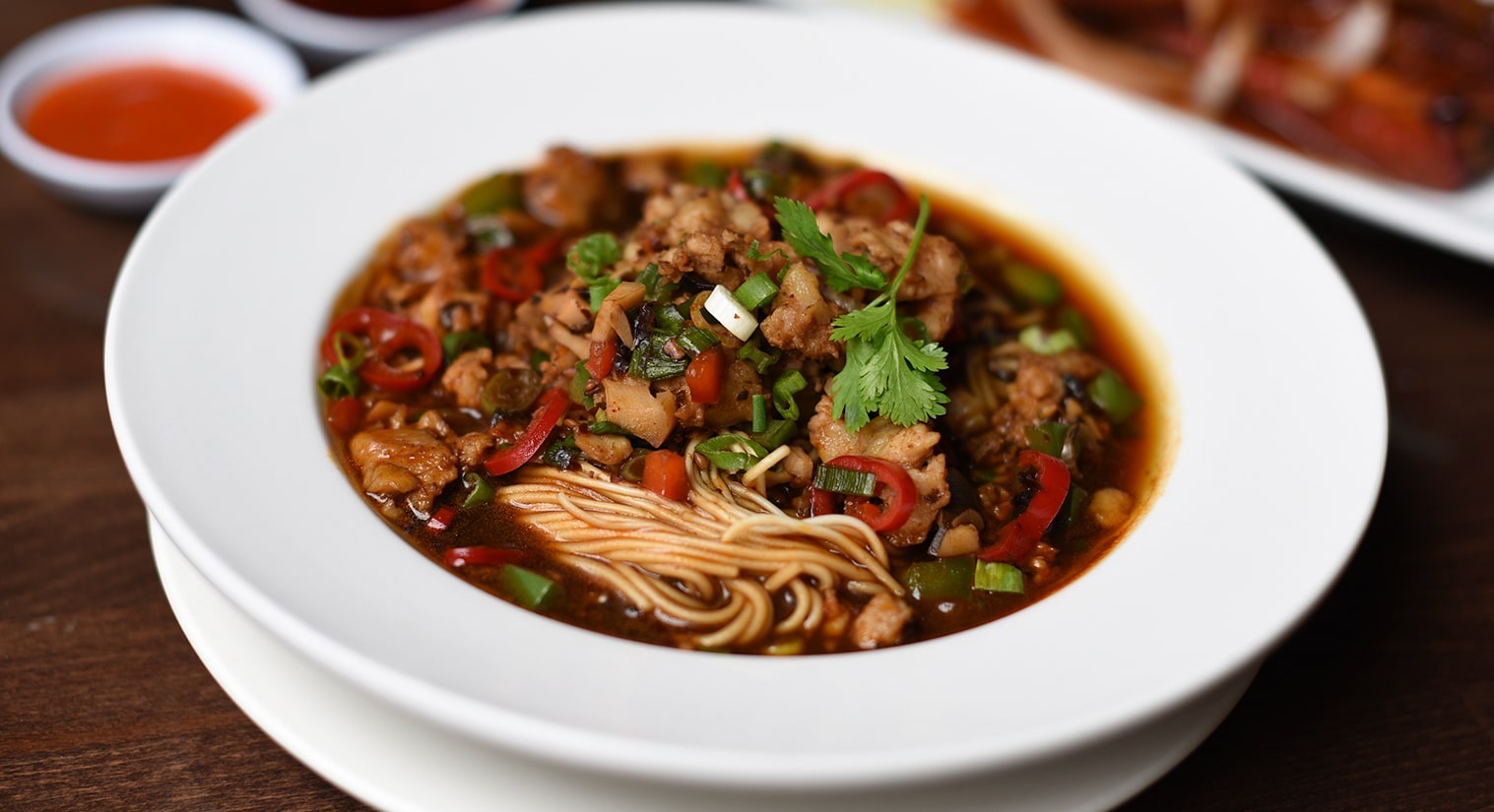 Available at Chung Ying Central
Dan Dan Noodles are one of the hallmarks of Sichuan (Northern Chinese) cooking. Soft noodles are combined with spicy chillies, prawns and crispy pork in a boiling hot soup to present your taste buds with a festival of flavour. This dish is spicy enough to be interesting, but isn't so spicy that you'll need to drink a gallon of milk to recover afterwards. That makes it a perfectly balanced introduction to classic Chinese cuisine. The dish originally gained popularity as Chinese street food and was called 'Dan Dan' as the noodles were often carried by street vendors on poles of the same name. Unsurprisingly, these delicious noodles only increased in popularity and eventually made their way to authentic Chinese restaurants around the world.
Chow Mein Noodles
Available at Chung Ying Central and Chung Ying Cantonese
Also known as stir-fry noodles, these noodles are a chef's dream to work with, as they are so versatile and can be served crispy or soft, according to taste. Often mixed with a Wok-ful of fresh vegetables, these noodles can be combined with an enormous range of delicious meats, seafood and sensational sauces to create wonderful culinary experiences.
Whether you want to contrast the crunch of the crispiest noodles with the softest seafood, or taste soft noodles as they fall apart alongside crispy pork or vegetables, let our chefs know what you preferred cooking style/combination is and they will make your perfect stir-fry with pleasure.
Rice Vermicelli Noodles
Available at Chung Ying Cantonese
Made from 100% rice, not wheat, these noodles are the perfect addition to soups. Imagine your favourite, spicy (or sweet) and deliciously crispy stir-fry in a warming soup that will perfectly fill that hole between lunch and dinner. Now that you're hungry, book a table at Chung Ying Cantonese and order one of our Vermicelli dishes.
Braised Noodles (also known as Lo Mein)
Available at Chung Ying Cantonese
These soft, boiled noodles are bathed in fresh and fragrant sauces to present diners with an ocean of flavour. One of our favourite partners for these noodles is our brilliantly tender Beef Brisket. Juicy, sweet and smokey beef, on a soft, thick bed of beautifully boiled noodles is a taste combination that you need in your life. Another of our most popular additions to braised noodles is Char Siu, which is a Chinese interpretation of honey barbecued pork. Mixed with invigorating fresh ginger and spring onion, this dish will present your taste buds with a perfect mixture of sweet and spicy flavours, carried on a deliciously smooth bed of noodles. These oil-free noodles are a bit of a 'hidden gem' on UK Cantonese menus, but are hugely popular in the U.S.A where they are seen as a healthy alternative to stir-fried noodles.
E-Fu Noodles
Available exclusively at Chung Ying Cantonese
These golden, spongy egg noodles are a Cantonese classic. We serve them with Dried Scallop flakes to give you a sumptuous plateful of contrasting, yet complementary flavours. Mushroom and crab are a few of our other hugely popular additions to this dish. If you want an authentic taste of Hong Kong in Birmingham, this is one of our many dishes that will take you there in an instant. William Wong, Director of the Chung Ying Restaurant Group says, 'These are my favourite noodles. They are absolutely amazing and if they're not in your life, you're seriously missing out.'  
Ho Fun Noodles
Available at both Chung Ying Central and Chung Ying Cantonese
Wider than some of our other noodles, these rice-based delights give so much extra space for our delicious sauces to be absorbed into. It is vital that these sublimely soft noodles don't break when they are fried and only the most skilled Cantonese chefs can prepare them to perfection. Fortunately, these chefs fill the kitchens at both of our restaurants. If cooking perfect Ho Fun is an art, then our dishes provide a generous canvas for an enormous range of flavours including Chicken, Prawn, Beef, Fresh Vegetables and many more. One of the most popular Ho Fun dishes available at Chung Ying Central is our Pad Thai Noodles. By combining sweet and spicy Ho Fun with beansprouts and peanuts, we are able to bring an authentic taste of Bangkok's street food to Birmingham.
Won Ton Noodles
Available at both Chung Ying Central and Chung Ying Cantonese
We love serving this staple of Cantonese cooking to our customers at both of our restaurants every day.  If overcooked, the taste of noodles could override and detract from the taste of the wontons, so our experienced chefs are ideally placed to prepare it. This speciality has four important parts. Firstly, the broth has to be boiling, so that the wontons break and allow their prawn or vegetable fillings to flow onto the noodles. Secondly, the noodles need to be thin and firm, so that they don't dissolve into the broth and leave you with a spoonful of prawn and no noodle. Thirdly, the wontons need to be prepared to perfection, in the traditional style, in order to produce maximum flavour. Finally the garnishes need to be fresh, seasonal, and complementary to the other flavours that are present in the dish. Chung Ying's chefs have been making this Hong Kong classic for well-over 30 years and are deservedly commended by Birmingham's Chinese Community on the authenticity with which they cook and serve this staple dish.
Soup Noodles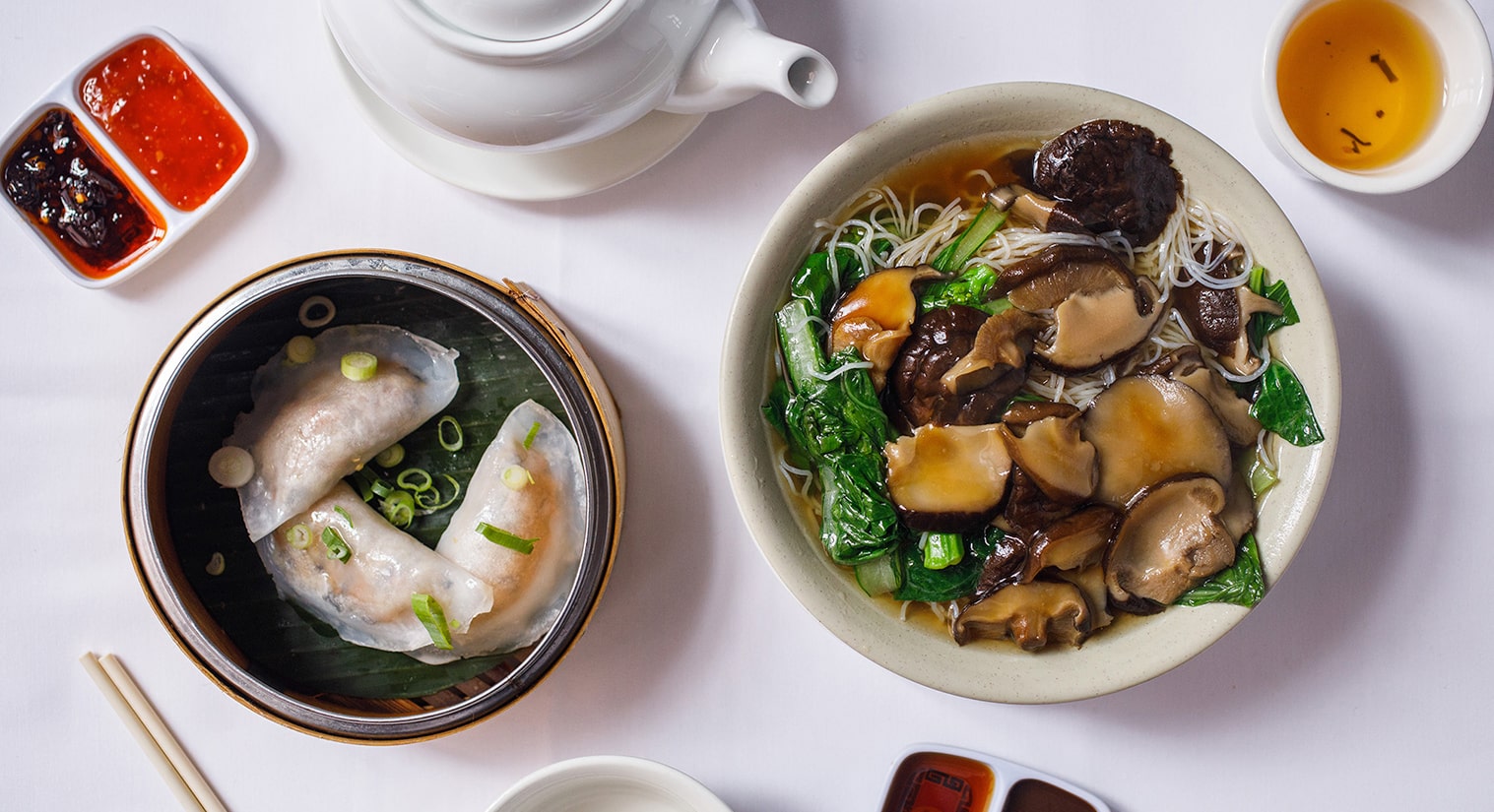 Available at both Chung Ying Central and Chung Ying Cantonese
Whether you want to enjoy a refreshing, warming and filling Noodle Soup for breakfast or you want to make one of these classic dishes a part of your lunch or dinner, you can rely on our experienced staff to serve you the perfect soup, at the perfect time. From crystal clear soups to boiling broths, and spicy Sichuan soups to delightful fish-filled seas of flavour; our restaurants have everything that you need to enjoy each spoonful of soup, from that adventurous first mouthful to the delicious last spoonful of soup.
Crispy Noodles
Available at both Chung Ying Central and Chung Ying Cantonese
Fried noodles have been a speciality at Chung Ying for over 30 years. The advantage of this for you is that you get to taste masterfully prepared noodles that retain their texture until they break apart in your mouth, amidst the freshest vegetables alongside curated (and often shredded) cuts of meat. Eating noodles becomes a truly unique experience when they have been crisped to perfection and served immediately. Our expert chefs deep-fry the noodles and then douse them in the most wonderful sauces, in order to uncover those extra bits of flavour that only the most talented chefs can bring out of the highest quality ingredients. The only way to find out is to book a table at one of our restaurants and discover these crispy delights for yourself.
Udon Noodles
Available at both Chung Ying Central and Chung Ying Cantonese
These noodles are a staple of traditional Japanese cooking. At Chung Ying, as well as serving you some of China and Hong Kong's favourite dishes we want to give you the opportunity to explore some of the best cuisine from around Asia. These thick wheaten Udon Noodles are a perfect fit for our menu, as they taste great in soups.
If you would like your Udon to come with a bit more bite, then we recommend Chung Ying Central's Yaki Soba Udon with Cabbage & Garlic in a sweet soy sauce. Yaki Soba is the Japanese equivalent of a stir-fry dish and became popular during the Second World War when the owner of one of Japan's most famous noodle restaurants couldn't find the noodles he would normally use in a stir-fry. As only Udon noodles were available, he used them instead. Although unconventional, the resulting dish became hugely popular. Our interpretation of the dish allows you to enjoy perfectly crisped noodles in parcels of sweet crunchy cabbage. Our special soy sauce only adds to these flavourful festivities. This pairing between Birmingham's finest and Tokyo's finest is one that you don't want to miss.
Other Asian Noodle Delicacies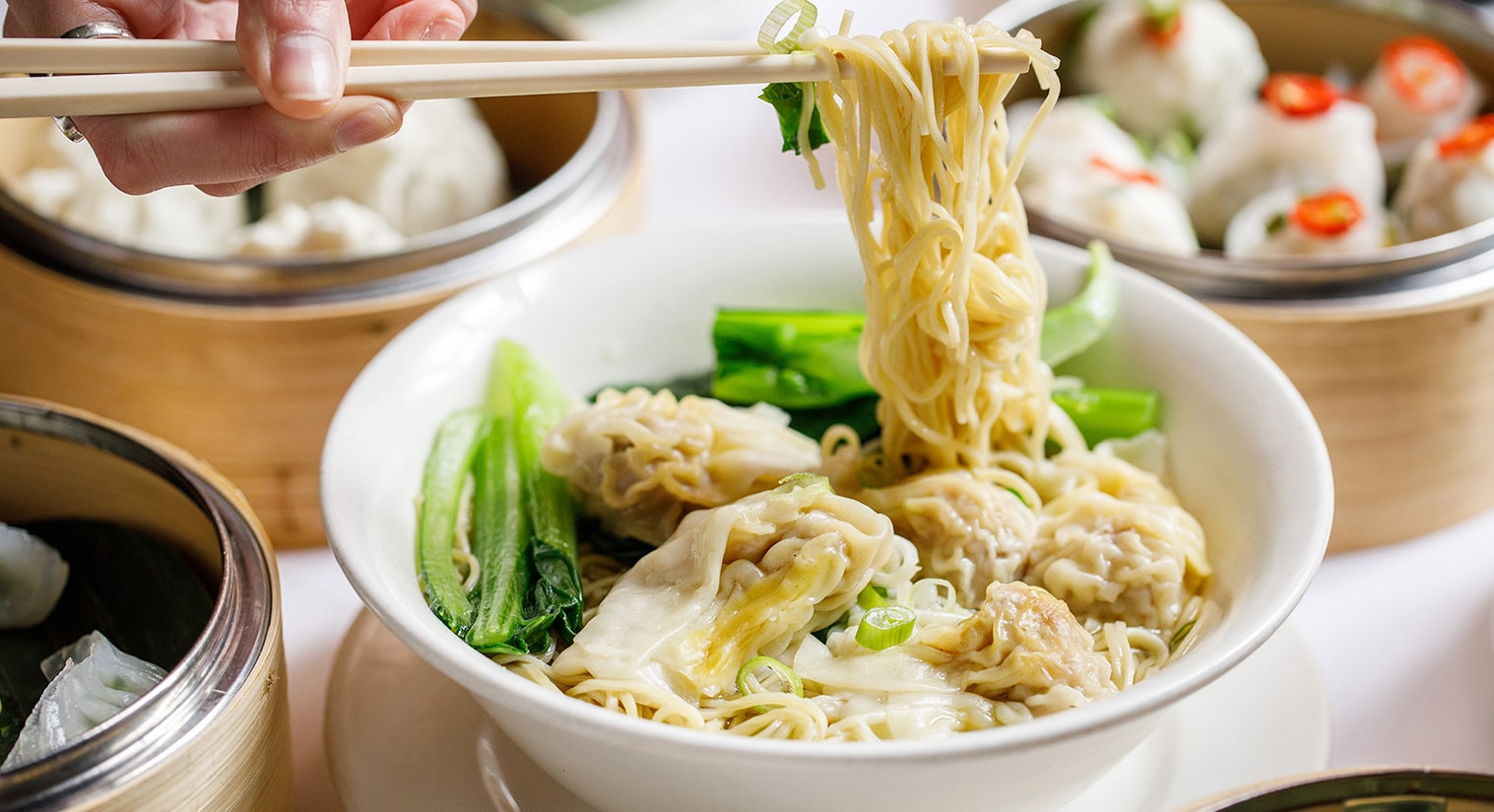 A variety of noodle dishes which are popular in different Asian countries are available at both Chung Ying Central and Chung Ying Cantonese.
Our chefs come from a variety of culinary backgrounds and so it was only natural that other non-Chinese noodle dishes that are popular throughout Asia joined Japanese Udon on our menus. One of our favourites is Singaporean Laska, which you can find exclusively at Chung Ying Central. This remarkable dish combines spicy Ho Fun noodles with mixed seafood and a delightfully sweet coconut curry broth, to balance out the spiciness of the noodles. The result is a delicious medium broth which is spicy enough to give you a taste of Singapore, but not so spicy as to make it inaccessible to diners who are experiencing Asian cuisine for the first time.
Another hugely popular dish from elsewhere in Asia is Vietnamese Beef Pho. Again Ho Fun noodles set the scene for slow-cooked beef, which oozes juice, sauce and flavour all over the noodles to create one of Hanoi's favourite and most warming dishes. It is thought that Pho became popular after the French brought their warming Pot au Feu dish to Vietnam in 1858 and added beef-filled dishes to the rich tapestry of Vietnamese street food. Our chefs love cooking this dish and our customers love eating it. Our Vietnamese cooking is so popular with the Local Community that we are regularly asked to cater for traditional Vietnamese events, such as weddings.
If you want to grab a taste of Asia without leaving Birmingham's city centre, then Chung Ying's restaurants are perfect for you.
Special Mention - Cheung Fun Dim Sum (Chinese Cannelloni)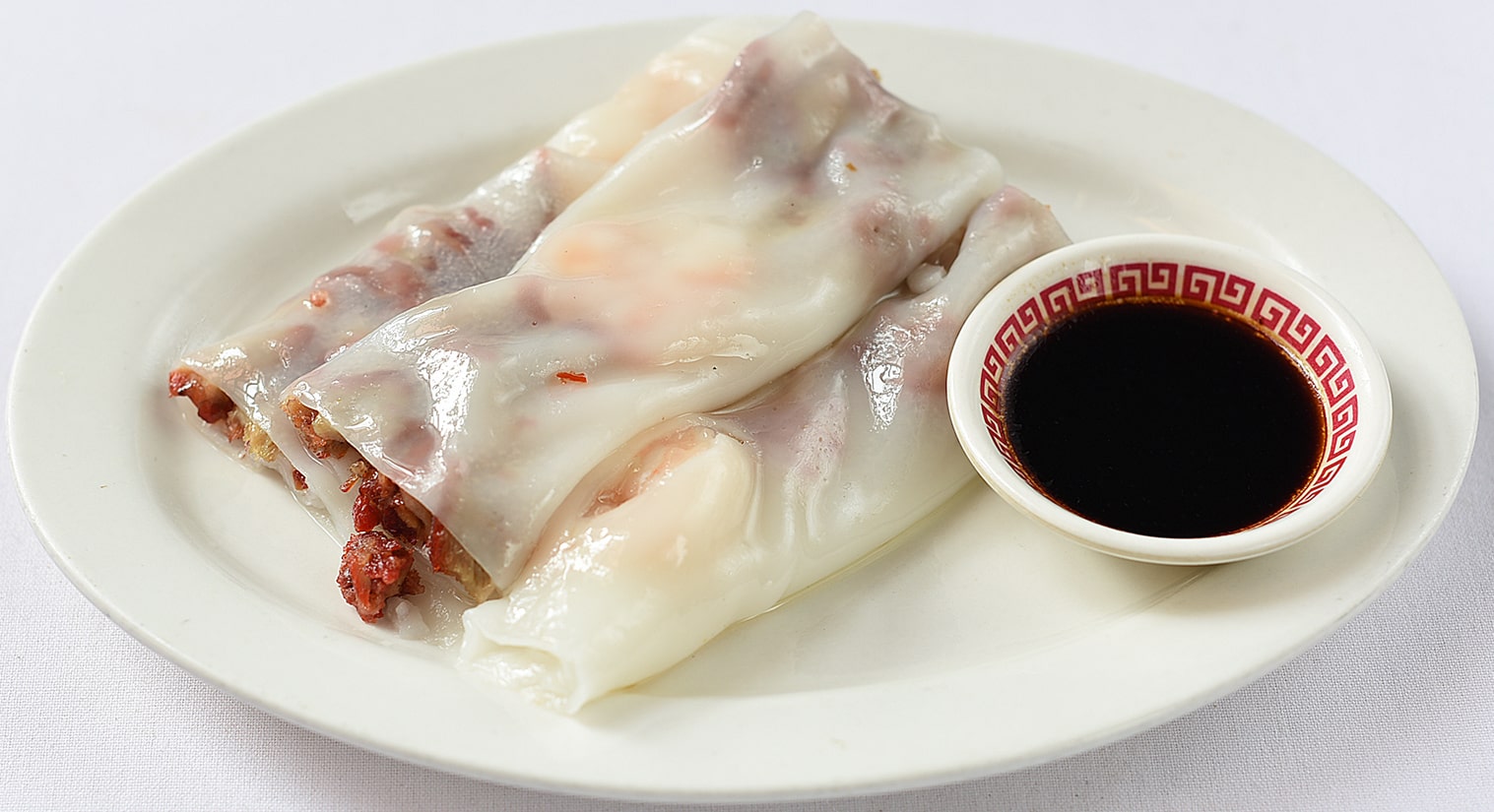 Available at Chung Ying Cantonese
 Noodles don't always look like noodles. When you think of noodles, the image of golden strings of tastiness, surrounded by delicious meats, fish, vegetables and sauces comes to mind. However, there is another delicious way to introduce noodles into your meals. Imagine if these dishes came as a cannelloni-style wrap and you could experience the same wonderful combination of flavours as a starter or as a breakfast snack. Imagine if a variety of these wonderful wraps was served fresh every day at Chung Ying Cantonese. Fortunately, they are. Our Cheung Fun (Chinese Cannelloni) quickly became some of the most popular dishes on our Wrottesley Street menu, because they are prepared perfectly and don't break early. That keeps all of the flavour in a tidy parcel that you can enjoy at your leisure. All of these rolls are made in-house, so you know that whenever you order them, they will be immensely fresh. The taste of honey-barbecued 'Char Siu' Pork wrapped in a sublimely soft rice noodle roll is a life experience that you will want to document for future generations to appreciate as much as you did. We suggest posting your Cheung Fun to your Instagram Story to make archiving as easy as possible. Likewise, your first bite of a King Prawn or Scallop Cheung Fun will be a truly special experience. Pop into Chung Ying early to order your Cheung Fun. We stop serving them at 5pm because if the rolls aren't as fresh as possible, we won't serve them to you.
Unsurprisingly therefore, Cheung Fun form an essential part of our Dim Sum (breakfast dumplings) menu which is the biggest in the UK and probably in the entire world. With over 100 different varieties of Dim Sum, you're certain to find the perfect parcel of flavour for you on one of our menus. The full selection, which is available exclusively at Chung Ying Cantonese, can be viewed here. 
While our noodle selection might not quite be the biggest in the world (we are checking this), it is one of the widest and most immaculately cooked selections that you'll find in Birmingham. We are constantly looking for new dishes to add to the menu and for other noodle-based Asian delicacies to bring to Birmingham's city centre. You might need to grab a quick pre-theatre noodle soup, before walking for approximately 2 minutes from Chung Ying Cantonese to watch a show at Birmingham's legendary Hippodrome Theatre. Perhaps you want to hire Chung Ying Central for your business events and want to offer your guests some sumptuously snackable treats, in which case, Cheung Fun would be perfect for you. Whatever you need, our experienced team are more than happy to advise on the perfect noodles for you. Drop us a line here.
Please note that on Fridays and Saturdays, noodle dishes are only available at Chung Ying Central until 6pm.