Blog
Breakfast at Tiffany's… we'd rather go to Chung Ying Cantonese!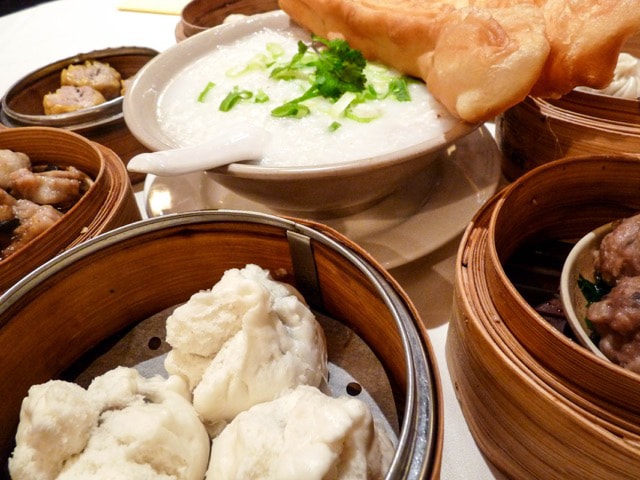 In Hong Kong, it's traditional to wake up early (5am!) and go out for breakfast, enjoying delicious dishes such as dim sum, congee and noodles. Local people see this a great opportunity to socialise and talk about the day ahead. 
Now, we're not suggesting that you come down to Chung Ying Cantonese at 5am (as we'll definitely still be in bed!), but how about coming in between 10am-12pm to enjoy a touch of Hong Kong in Birmingham… 
In traditional Chinese culture, breakfast is an important meal, not just because of socialising but because it gives you a chance to balance your chi.
What's 'chi' we hear you ask… 
Your chi is the entity that gives your body life and traditional Chinese medicine aims to balance and enhance your chi so that your body is healthy.
Unfortunately, as much as we love our fried food, it's the mortal enemy of your chi. The Chinese say that when you eat a lot of fried food and drink a lot of alcohol, your chi becomes 'hot'. This imbalance makes you prone to illness.
Therefore, breakfast is an ideal time to help you balance your chi. 
So what brunch menu items are good for your chi…
You'll be thankful to hear that steamed dim sum are both nutritious and delicious… you'll have to wait for dinner for the naughty fried selection though! We've got a great variety of steamed dim sum on our brunch menu, including char siu buns and Shanghai dumplings.
Of course, we like to say that steamed dim sum are healthy, however, we can't guarantee that's entirely true if you take advantage of our 'Any 2 steamed dim sum for £6' deal!
What else?
Forget about your everyday porridge, congee takes breakfast to a whole new level. Low in calories and richly nutritious, this hot rice porridge may look deceptively simple, but push your spoon into its creamy depths and you'll be delighted by the meats, fish and vegetables hiding within it.
Plus, you get a fried dough stick with the dish for £6… who wouldn't want that?!
Now, if you're thinking that you could still eat more, our next deal is right up your alley. How does 1 dim sum dish, plus a choice of congee, claypot rice, noodle soup or vegetables for only £9 sound?
And don't forget about our tea selection. We're offering an expanse of teas which will balance your chi and set you up for a great day. Jasmine, oolong, longjing, pu-erh, chrysanthemum, green and red tea… we've got it all!
Plus, we'll be offering unlimited refills…
So if you're looking for a brunch spot that offers you something a little different from your traditional English breakfast dishes, Chung Ying Cantonese is the place to be. 
Take a look at our menu to find out more and click here to reserve a table.