Blog
Delve into deliciously different dumplings
Everybody knows that dumplings form a crucial part of Chinese cuisine, and in particular, Cantonese Dim Sum. However, many people don't know what makes individual varieties of dumpling so very special. Here we'll tell you all you need to know about the parcels that carry such a variety of flavours to so many different palates.
The Steaming Process
These popular dumplings are staples of Dim Sum. Steaming in bamboo baskets gives the dumplings extra flavour. However, their shape must be immaculate at all times. Across China, different communities have different traditional ways of enjoying their Dim Sum. The diner has to be the first to pierce the dumpling's wrapper in the way that they see fit. Dim Sum that break before they are pierced risk ruining that diner's entire 'Yum Cha' experience. The following three dumplings are examples of our steamed Dim Sum.
Chiu Chow dumplings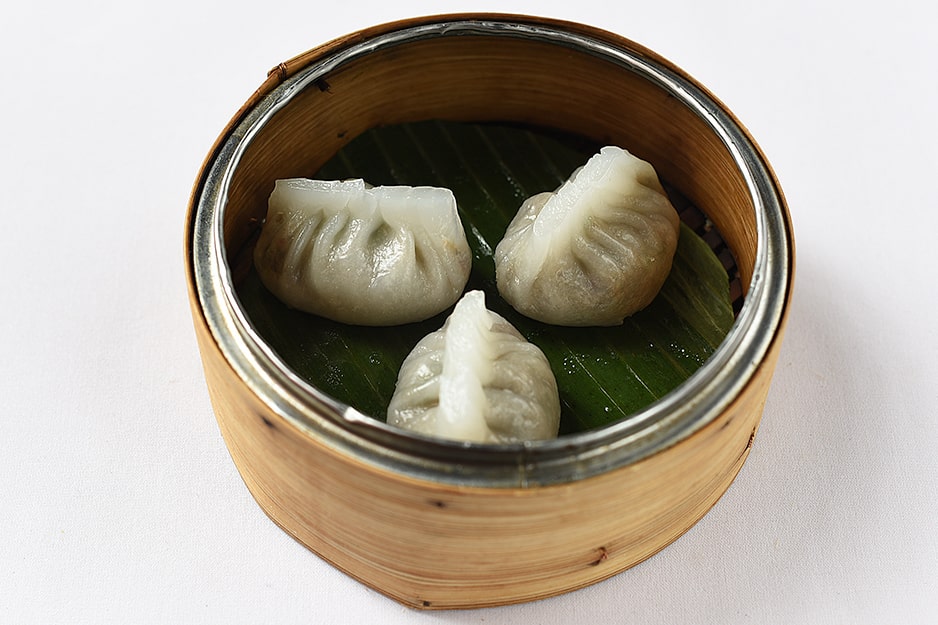 Firstly, it is important to note that not all Dim Sum have to contain meat. Chiu Chow dumplings were first made in the city of the same name in the East Guangdong region. These dumplings often have soft flavours and frequently contain nuts and vegetables. With these dumplings, everything is about the sauce they are dipped into. From soy sauce to chilli sauce, the options for covering Chiu Chow dumplings in liquid flavour are endless. As these dumplings are lighter on the palate, they are perfect for those who want to take their Dim Sum as a light snack, but not as a heavy meal.
Har Gow dumplings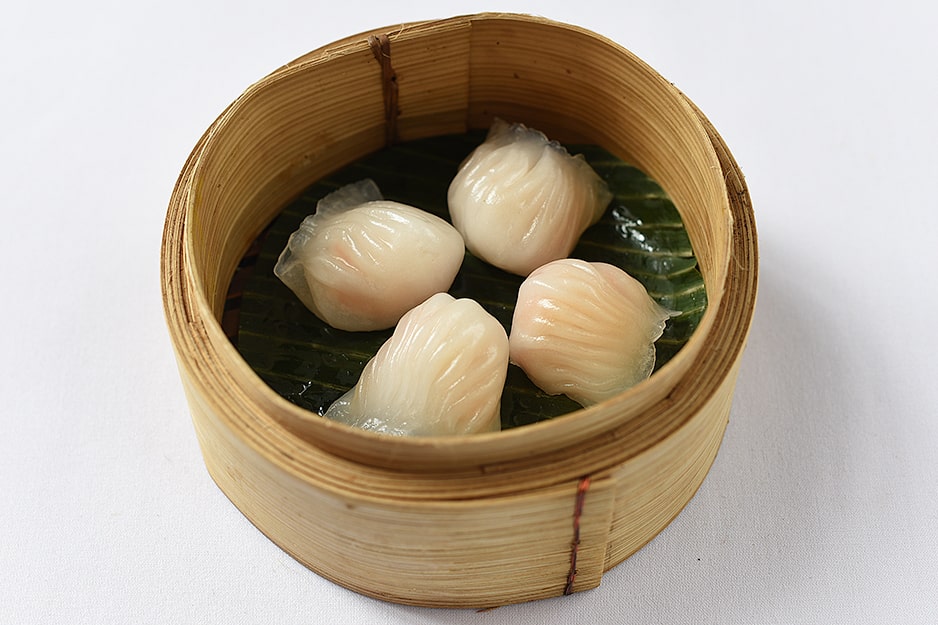 Har Gow dumplings are the ultimate test of a Dim Sum master chef's craft. These dumplings should have at least seven pleats on their wrappers. Har Gow dumplings with ten or more pleats are considered to be the best. The chef must pleat this rice flour-based dish without tearing the wrapper, staining the wrapper, or allowing any of the dumplings' wonderful fillings (usually shrimp) to leak out. If your Har Gow dumpling has ten or more pleats, then you know that you are eating at a Cantonese restaurant of exceptional quality.
Shanghai Dumplings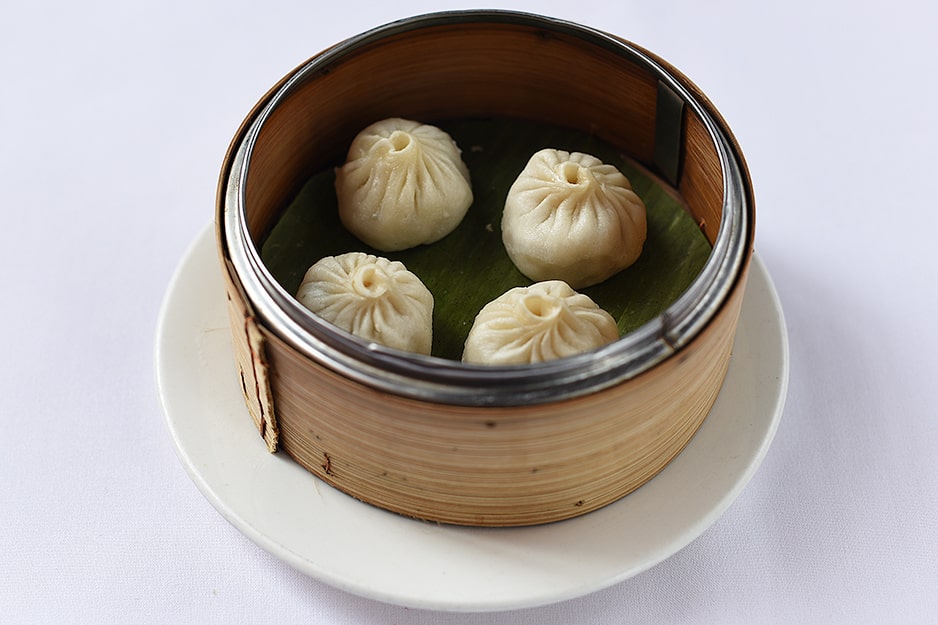 Shanghai dumplings are known for containing gelatine stock which transforms into a sumptuous soup when steamed. They are shaped like small bags as they carry an ocean of flavour to the mouths of diners across the world. That is why their wrappers are not folded, but are pinched at the top. Very often, these dumplings will be eaten by piercing the wrapper to allow the soup to flow onto a spoon, and then enjoying the meaty interior and the fluffy dumpling itself, after those few mouthfuls of hearty soup have been experienced.
Buns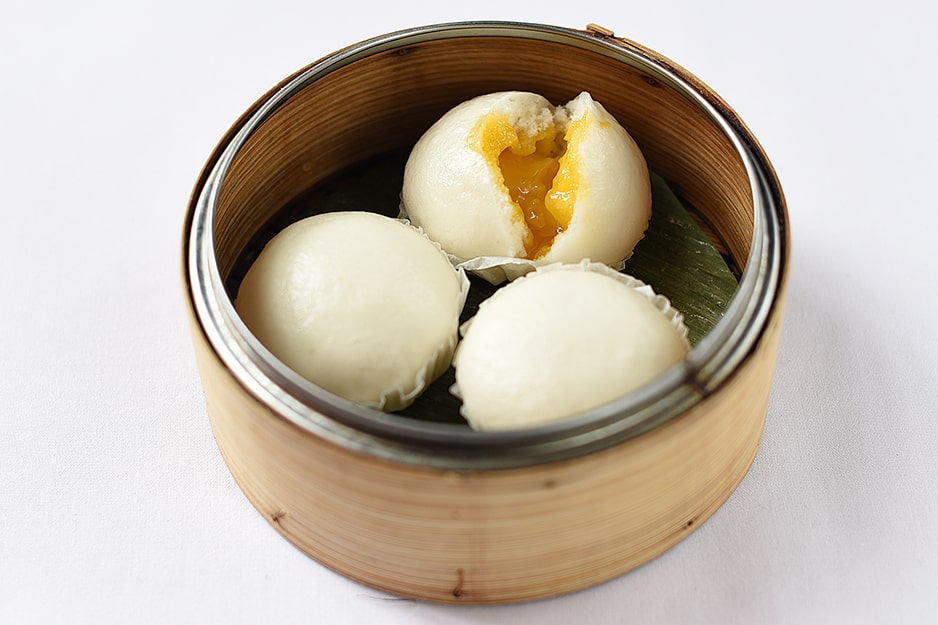 Rice Flour buns have a similar texture to bread, but are slightly sweeter and lighter on the palate. Therefore, they are perfect for sweet Dim Sum. Caramelised buns, 'liquid gold' buns and so many more ooze out delightful flavours that will keep your sweet tooth occupied for some time.
At Chung Ying, our experienced team are more than happy to advise you on the best style of dumpling for you. Why not try several with a variety of different fillings and see which ones you enjoy the most. Given our kitchen team's decades of experience, you can rest assured that your Dim Sum will always be boiled or steamed to perfection. Have a look at our Dim Sum menu (the largest in the UK)  and discover more about the wonderful dumplings that we prepare every day.