Blog
New Vegan Menu At Chung Ying
Veganism has recently taken the world by storm, fast becoming a lifestyle that is preferred by many as a way to do their bit for animals, the environment and their health. Whilst many might think veganism is a new trend, its popularity spans centuries and has been at the basis of many ancient civilisations. Chinese cuisine includes every day vegan staples such as tofu, soy, vegetables, seitan, rice and egg-free noodles, making it a go-to for many vegans and being the inspiration for T. Colin Campbell's book, The China Study. If you have been to Chung Ying before you know we serve excellent Chinese dishes, but did you know we have a brand new ​vegan menu​?
Some of our most popular vegan options include:
Dumplings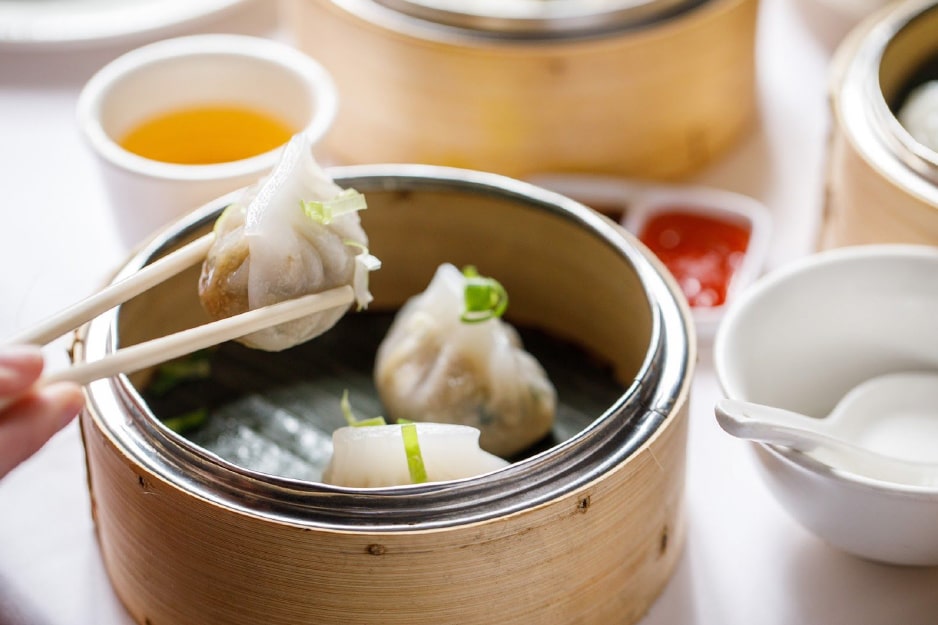 Dumplings can be boiled, steamed or fried and when they contain vegetables they are a great vegan appetizer! Our new menu includes two types of vegan dumplings: Steamed Monk's Dumplings, for the traditionalists, and Steamed Spicy Vegetable Dumplings, for those looking for some heat with their meal.
Vegetable Spring Rolls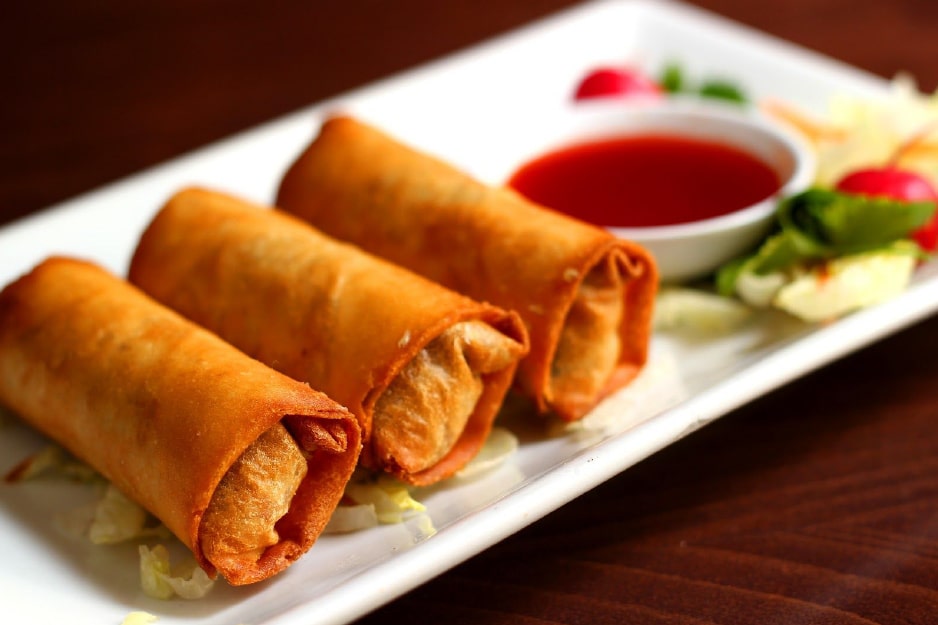 Spring rolls are an ancient staple of Chinese cuisine and, their vegetarian variety is also a great vegan option. They are a classic for a reason and we had to include them in our vegan menu. They are accompanied with a vegan sweet and spicy sauce that accentuates their flavour.
Tofu-based Dishes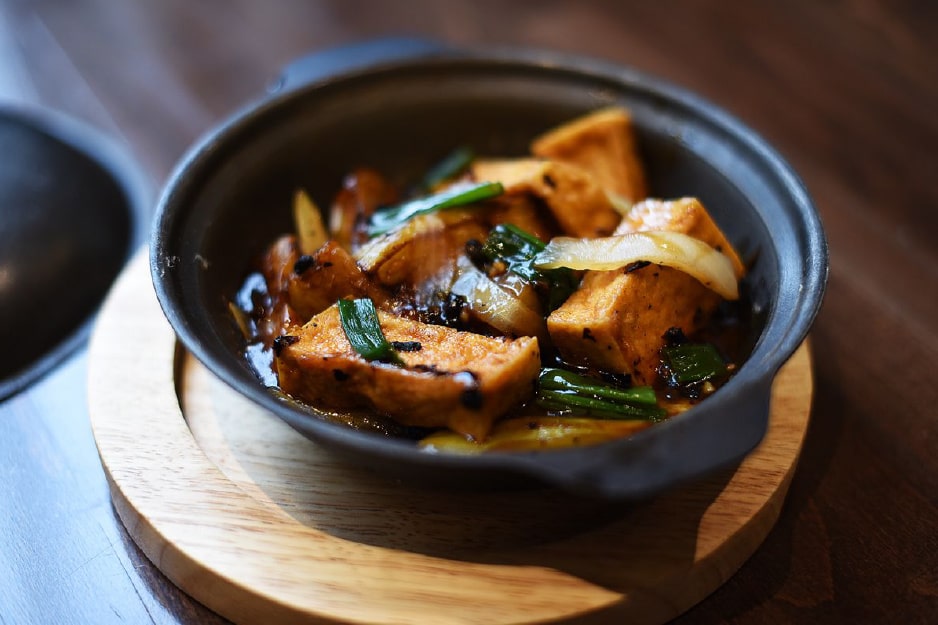 Tofu is an extremely versatile staple of Chinese cuisine and an excellent source of plant protein. Our new vegan menu includes a few tofu-based dishes such as Salt and Pepper Tofu With Cashew Nuts as a popular starter and Aubergine And Tofu Sichuan Style and Sweet And Sour Tofu as rich mains.
The Salt and Pepper Tofu with Cashew Nuts is a clients' favourite as the tofu is crisped and seasoned to perfection to give the meal a great start.
Let's talk about the mains...
Whilst you might be familiar with Sweet and Sour Sauce, you may be frowning at reading 'Sichuan Style', let us clarify: Sichuan cuisine is typically spicy and very flavourful; so choose the Aubergine and Tofu Sichuan Style if you are looking for a main with a bit of a kick. Both of our tofu-based mains are often enjoyed with sides such as rice or (egg free) noodles.
Vegan Brunch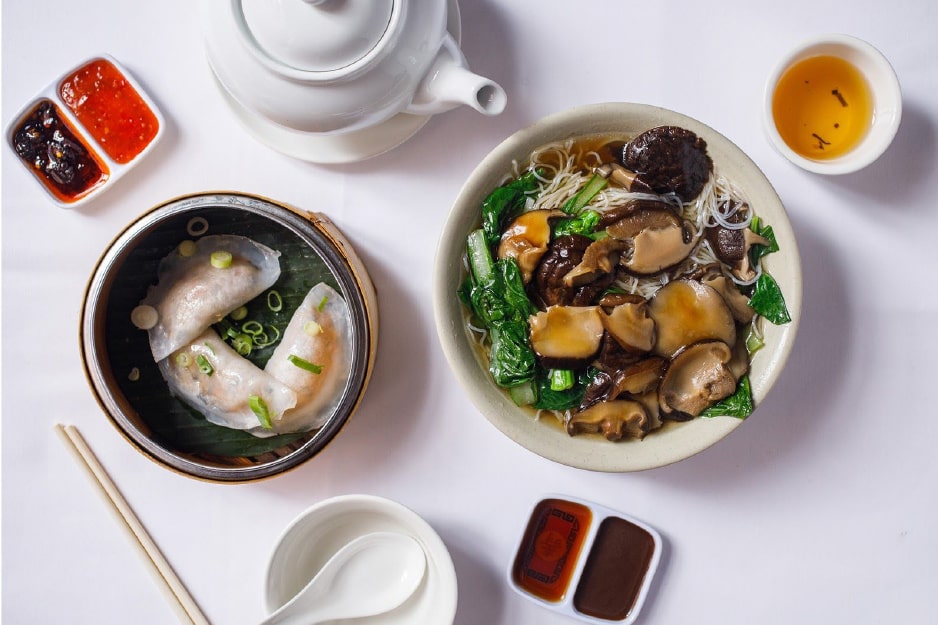 Together with our brand new vegan menu we are now offering vegan brunch! Our Chinese Brunch Menu contains Dim Sum (Dumplings), Seasonal Vegetables, Noodle Soup, Congee and Claypot rice.
Many of our brunch options might be self explanatory, but some might not be so easily recognisable. A dish that we often get a few questions on is Congee, a typical breakfast Chinese dish. Congee is a type of rice porridge that can be enjoyed on its own or with mushrooms and preserved vegetables. It is fast becoming one of our most popular breakfast options and it comes highly recommended!
Veganised Dishes
Many dishes on our vegan menu are created to be vegan such as our Aubergine in Black Bean, our Tofu Based Dishes and our Mixed Vegetables dishes. Others, are traditionally vegetarian dishes that we are able to easily veganaise. For example, mains such as Vegetable Pad Thai and Vegetable Fried Rice are made without the traditional egg and our vegan Stir Fries are made with Ho Fun (rice) noodles instead of Egg Noodles. If you see a vegetarian dish which takes your fancy but it is not included in the vegan menu, ask us if we can veganise it, we will be happy to help!
Ready to try our new vegan menu? Have a look at our most popular vegan dishes ​​here and feel free to talk to a member of our staff if you have any questions about the ingredients we use!