Blog
New Year, New Dog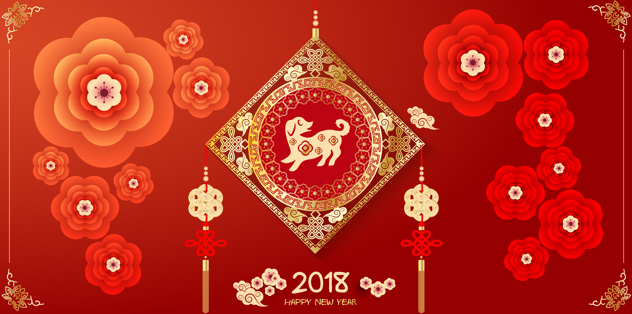 In the Chinese Zodiac, there are 12 animals. Each year belongs to one of these animals, with 2018 belonging to man's best friend, the dog.
So how does the Chinese calendar work?
The Chinese calendar rotates through five elements; Wood, Fire, Earth, Metal and Water. After each of the 12 animals have had a year the cycle starts again, with the rat focusing on a new element. Each animal belongs to one of these elements by default, so it comes as no surprise that with their penchant for rolling in the mud, dogs have a strong earth focus. With us already being in the Earth element cycle, 2018 will be the Year of the Earth Dog.
The Year of the Dog
Even if you're not an Earth Dog, you should be thrilled to have been born in the Year of the Dog.
Apparently people born in the Year of the Dog possess the best traits humans have. They're friendly, loyal, very smart and have a powerful sense of responsibility. They can also be very stubborn and not particularly good at social activities… but that wouldn't matter to us if we could outsmart everyone anyway!
The Earth Dog
If you were born in an Earth Dog year, the last of which was 1958, you're considered a serious person that communicates well, taking responsibility in your work. Who's a good boy, then?
But you're also broad-minded, faithful, brave and happy to take the blame for your own mistakes. You have clear goals which make you poised for success. In addition, your lucky numbers are 3,4 and 9, and your lucky colours are purple, green and red.
That sounds pretty good to us… so if you're due to have a child between February 16th 2018 – February 4th 2019, this is what the Chinese Zodiac calendar suggests you should expect from your little one!
Celebrate Chinese New Year with Chung Ying
So, come 16th February 2018, the Year of the Dog will be upon us! Why not come and celebrate with us? There are celebrations going on for the entire weekend:
If you fancy bringing Chinese New Year in with some serious style, come along to the Birmingham Chinese Festival Committee's special Chinese New Year's Eve event at Chung Ying Garden!
On Sunday 18th February, Birmingham's annual Chinese New Year celebrations are back and even better than last year. There'll be two stages, lion dances and funfair rides taking over Southside, Birmingham between 11.30am and 4.30pm. 
The Birmingham Hippodrome are taking part in this year's festivities too, hosting traditional performances outside of their main entrance and giving children the opportunity to enjoy some special workshops in the Patrick Centre.
And of course, our wonderful restaurants will be open for the entire weekend (apart from Chung Ying Central on Sunday!) so you can get your chops on some delicious and authentic Cantonese food whenever the mood strikes…
Plus, if you visit us in the evening of Friday/ Saturday night, you'll get to see some incredible live entertainment… who doesn't love fire crackers and lion dances?!
If you're planning to come along with a group of friends or family, make sure you check out our special Chinese New Year banquet – it's perfect for groups of six or more (available at Chung Ying Cantonese and Garden)!
And don't forget to book, we'll be busy!
恭喜發財 ! Kung Hei Fat Choy!