Blog
What's Dim Sum?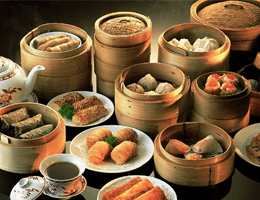 Some people simply aren't accustomed to trying new things, especially food, some of us make irrational judgements on food before we even try it; this happens especially with Chinese food.
A lot of people come to Chung Ying and order the most familiar dish to them, using sweet and sour and chow mein dishes as a safety blanket away from the comfort of their local takeaway.
With people travelling far and wide, Chung Ying is a haven for exotic Cantonese cuisine so it's a shame to not try something different.
Our Dim Sum menu is hugely popular with our customers that have been willing to experiment with new flavours, taking advantage of our offers and experiencing the unique taste of Dim Sum.
History of Dim Sum
Entering the western hemisphere in the 19th century, Dim Sum is variety of bite sized recipes which are traditionally eaten alongside Chinese tea, a great way to try multiple flavours as a social with friends or family.
Our Dim Sum Menu
Chung Ying's Dim Sum menu is as vast as it is delicious, with a range of pan fried, deep fried, steamed, wrapped and even desert Dim Sum, ideal for sharing and trying new flavours together.
Our steamed pork and king prawn dumplings, deep fried king prawn balls Thai style and crispy curried chicken spring rolls are hugely popular amongst customers, as well as more traditional flavours such as steamed chicken feet in black bean sauce, stir fried ox tripe with satay sauce and pig's trotters in preserved bean curd sauce, each delivering individual flavours.
Why not try Dim Sum
Why not try something new at Chung Ying? We offer the UK's largest Dim Sum menu with each dish demanding your attention with its unique flavours freshly prepared and hand made by us.
The best way to enjoy Dim Sum is to order a few dishes to try and you'll soon find a favourite to recommend to your friends, enjoy!