Blog
Explore some of Chung Ying's more adventurous Chinese dishes
Are you bored of going to Chinese restaurants and ordering sweet and sour pork with egg fried rice? While we cook these classic dishes to perfection, we also want to take our guests taste buds on an Oriental tour while they are with us. Here are some of the more adventurous dishes on our menu for those who want to try something a bit different when they enjoy a Chinese meal at Chung Ying.
Jellyfish Salad
You may know Jellyfish as those weird looking fish that you try to avoid getting stung by while swimming in exotic seas, or as a Bond villain's niche choice of pet. Very few people know how great jellyfish can taste in a cold salad when prepared by our expert chefs. Perfectly fried strips of crispy Jellyfish which are hard and crunchy on the outside and deliciously soft and gooey on the inside taste even better when mixed with garlic and sesame oil in our refreshing salad.
Ox Tendons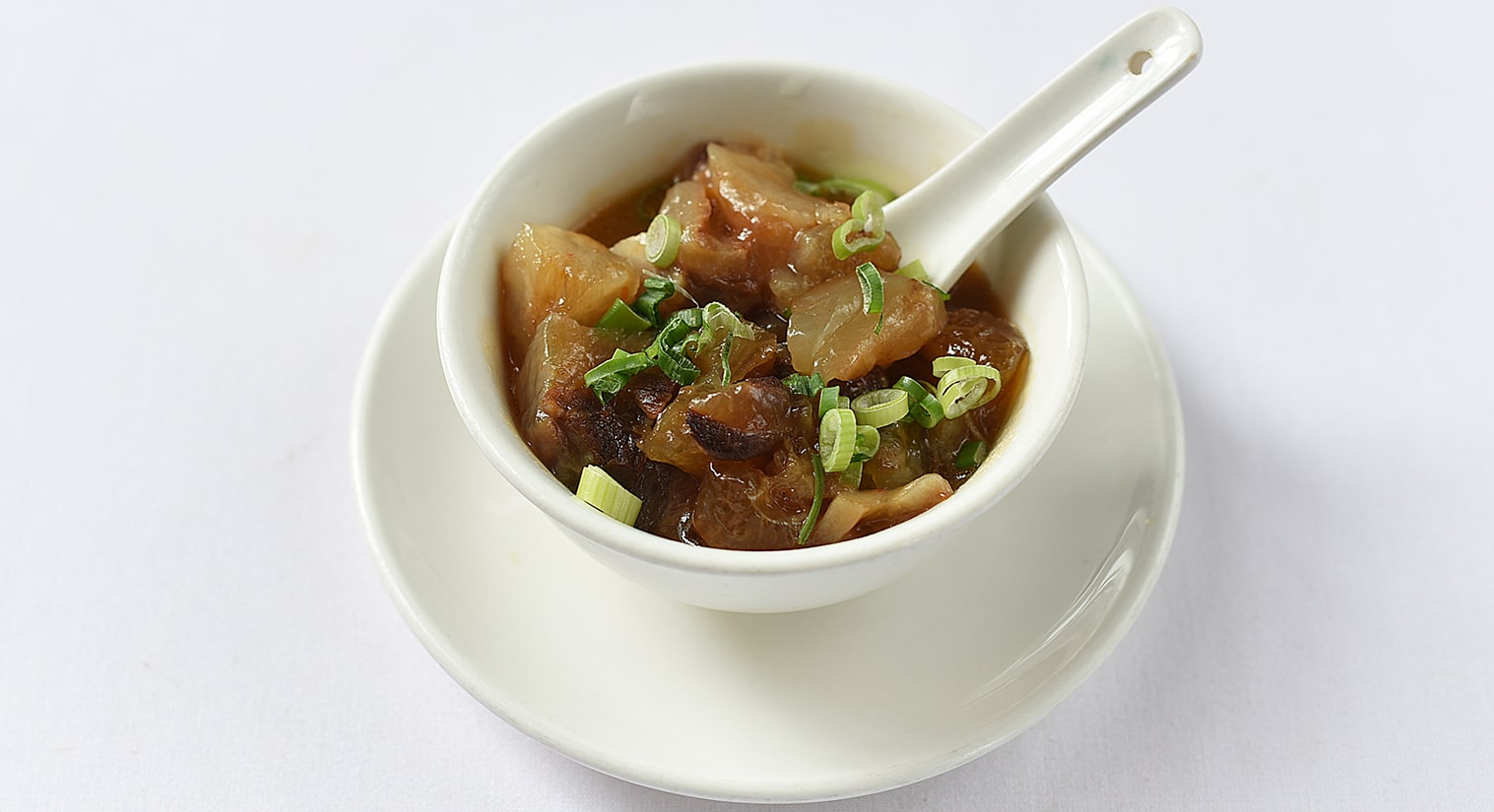 Ox is similar to beef, but tastes even better. Once you bite into these sumptuous tendons, you'll understand why they are at the heart of many popular dishes across Asia. A tendon connects bone and muscle, making it one of the softest, juiciest cuts of meat that you can order. At Chung Ying, we complement these amazingly tender tendons with traditional Chinese vegetables and sauces, to give you one of those amazing culinary experiences that will stay in your Instagram Highlights for years to come.
Our Ox Tendons are braised with a five-spice gravy, to take your taste buds on a guided tour of the spices which are central to Chinese cuisine, while you're waiting for these tendons to melt in your mouth. The bed of Bak Choy (delicious Chinese cabbage) on which this dish is served is the fresh, crunchy and fragrant accompaniment that these wonderful tendons deserve.
Crispy Pork Intestine
Don't be put off by intestines. They are one of the most delicious cuts of pork that you can enjoy, especially when their juicy, meaty core is wrapped in a crackingly crispy shell. These crunchy bites of meaty marvelousness are served with a traditionally sweet Hoisin sauce in true Hong Kong style. Once you've tried our crispy pork intestine, you'll be asking yourself why you waited so long to order a portion of this exciting exotic dish.
Boneless Chicken Feet (Thai Style)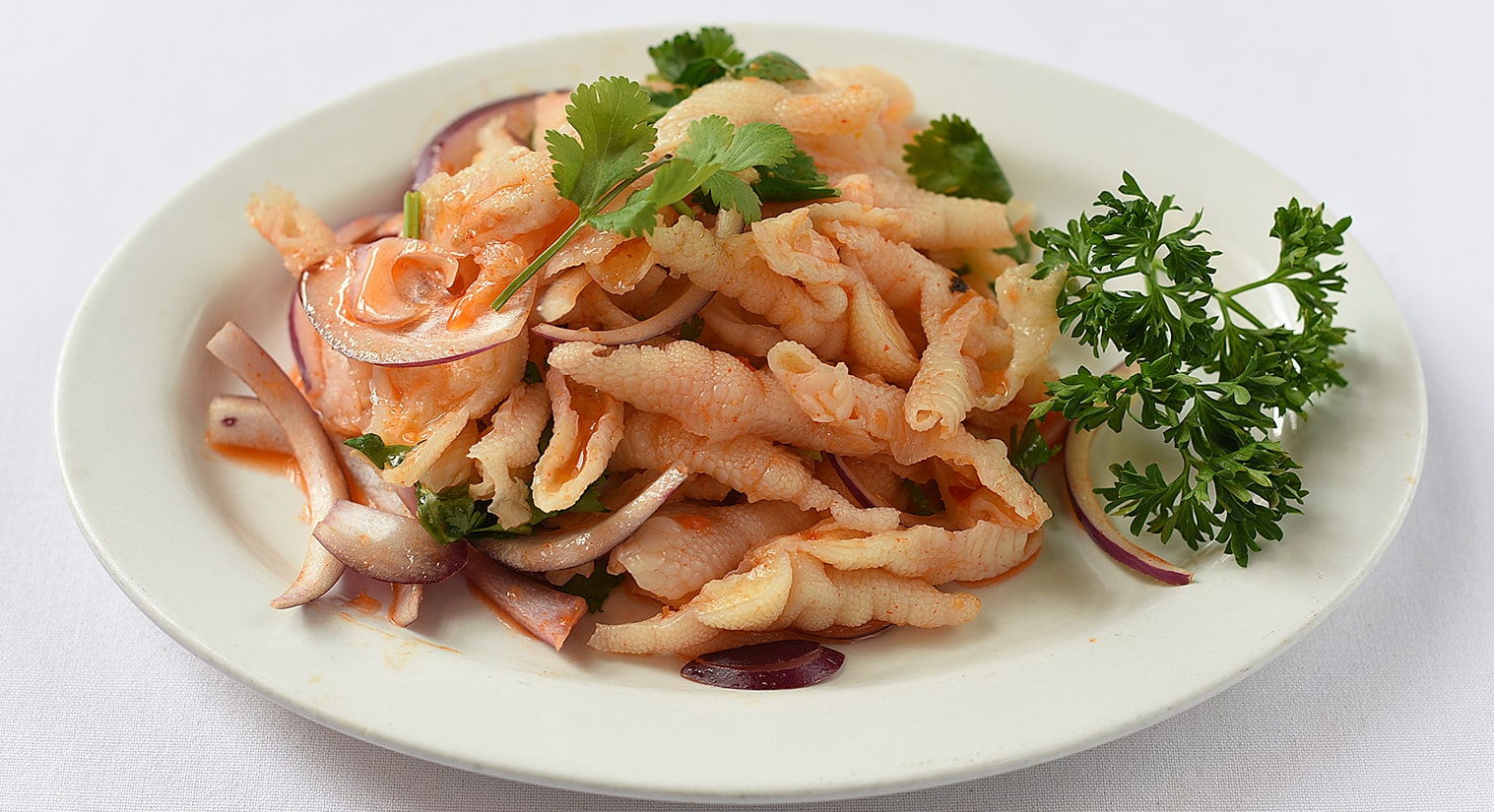 Free from bones but full of flavour, this cold dish lets you experience fresh, tender and juicy chicken alongside a sauce which gives you all of the best attributes of classically spicy Thai cooking, without being overwhelming. As a Dim Sum, this light dish gives you a tasty introduction to the tour of Oriental flavour that our extensive selection of menus takes you on.
Sweet Potato Katsu Bao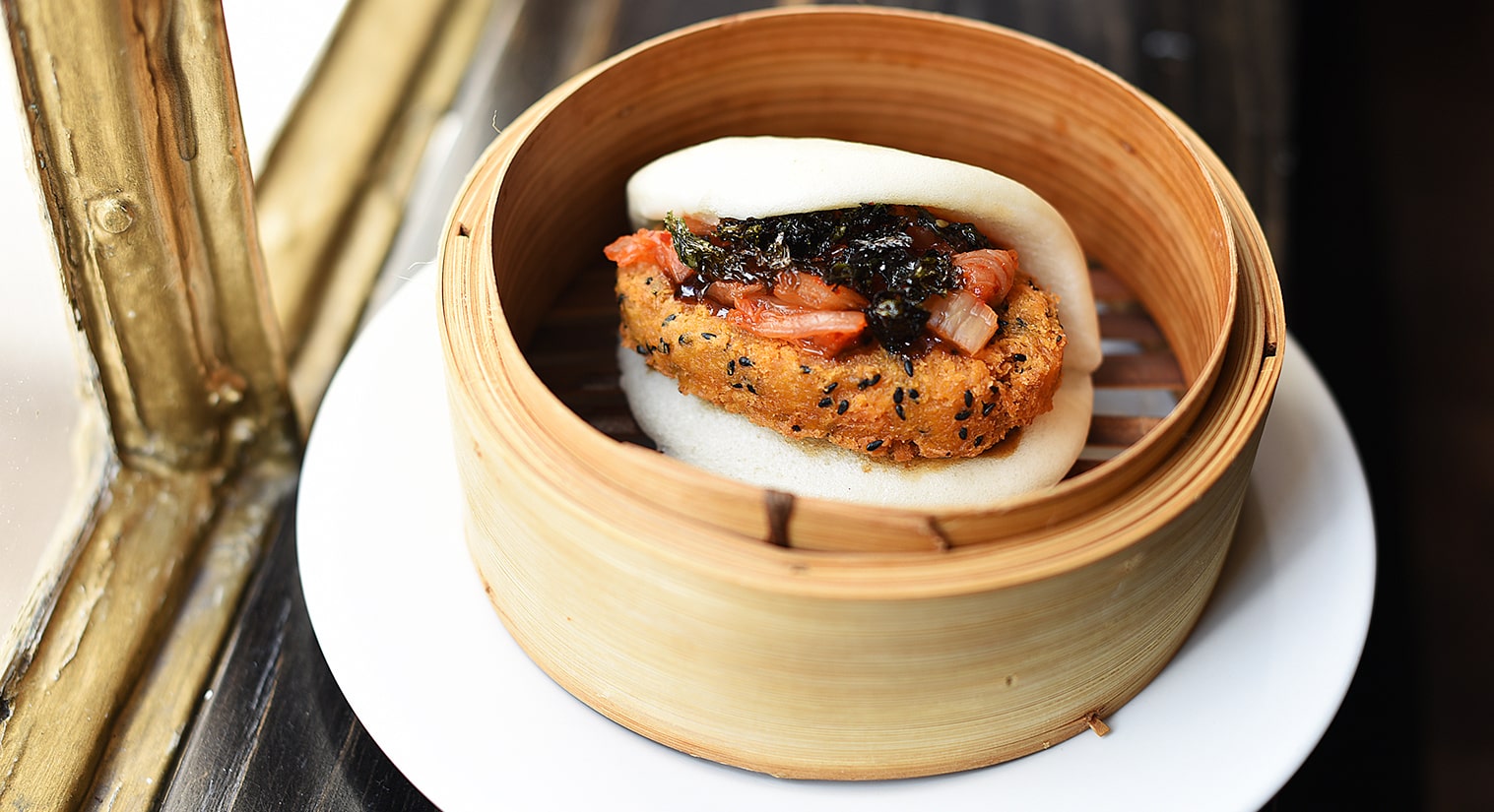 Mmm baooo... Now that you're slightly hungrier than you were ten seconds ago, we'd like to talk about our vegan-friendly take on the traditional Taiwanese Bao, which is essentially a Chinese version of a burger. This particular bao is filled to the brim with soft and decadently smooth Sweet Potato wrapped in fresh, crispy seaweed. A large helping of Kimchi (Korean vegetables) and several dollops of our terrific Tonkatsu sauce are added to ensure that your passport to flavour country is officially stamped when you take that first unforgettable Bao bite. Better still, why not take advantage of Chung Ying's Central Beer & Bao offer, by ordering this great dish and a refreshing schooner of Tiger Beer for £7 on Mondays and Tuesdays. This offer is available all day on Mondays and Tuesdays because there's never a bad time for a Bao.
However adventurous (or not) you're feeling, we've got something for everyone, so that you'll always order magical meals from our menus. Happy exploring!
---
Jellyfish Salad, Ox Tendons, Crispy Pork Intestine, Boneless Chicken Feet (Thai Style) are available at our Chung Ying Cantonese, Birmingham China Town Menu. 
 Find Sweet Potato Katsu Bao in our specialised Taiwanese Bao Menu at Chung Ying Central 
Have a look at our Beer & Bao offers on Monday & Tuesday at Chung Ying Central